Contact Investments in Ghana?
Are you interested to investments in Ghana?
Mail to ghana@lindalu.nl or call +31 (0) 24 64 24172
Facts
Africa: rapidly growing economies. Huge potential of raw materials and labor.
Ghana: stable political environment. Good law system. Big legal.
Modern yarn spinning mill of 10,000 m2 serving large textile companies, co-funded by Dutch government. Dutch embassy in Accra.
Own sustainable cotton cultivation by thousands of peasant farmers from the region to provide better socio-economics prospects rise because of the higher yields. Situated in the vicinity of the city of Tamale in Ghana. Big city. International airport under construction, Nice accomodation, Newly built hospital also funded by the Dutch government.
Loans to the Dutch limited liability EUROPEAN AFRICAN INVESTMENT GROUP b.v founded for funding of AFRICAN EUROPEAN TEXTILES Ltd only , with regulators who monitor and excercise the rights of financiers.
8,4% interest per annum. Per quarter to pay afterwards shape.. Duration 3 years.
Possibility to sell 1/6 part of the bonds per quarter at facevalue.
Security. Mortgage on the factory. No costs.
Invest through still specifying Crowdfundingplatform will be possible
In case of any questions , you can send us here a message by giving you name , emailadress , subject and remarks or questions. We will contact you.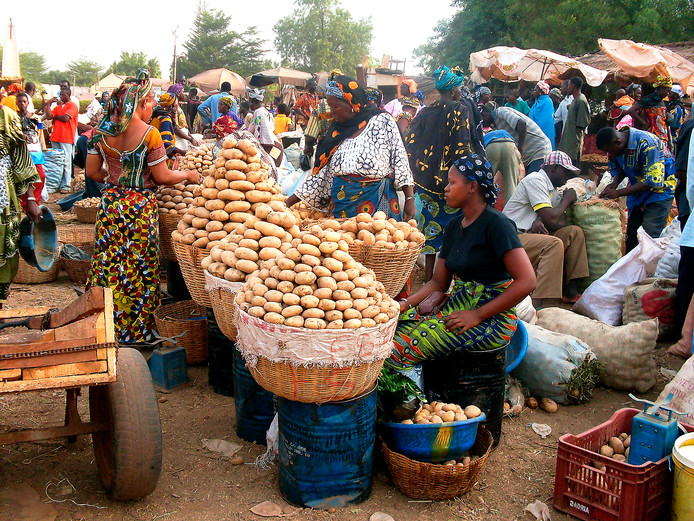 Africa is in the elevator

It's going well with Africa. More and more Africans can go to school or to the Hospital. And thanks to the mobile phone, the economy on the continent continues to grow.

In most of the 54 countries, life is progressing, says a report from the African Development Bank (AFDB). The researchers mainly looked at health care, education and the economy.
Governments go more efficiently with public money and provide more social security, stated in African Economic Outlook 2017. Many countries have made efforts to provide residents with medical care. For example, in Tunisia everybody has a doctor, and in Egypt it is 80 percent of the population. In Rwanda, nine out of ten people now have health insurance.
Education

Farmers who previously did not know so much and were sometimes exploited can now request the market prices for onions and tomatoes via the telephone (Irene Visser)
Also in education, the African countries are taking great steps. Countries like South Africa, Morocco and Mozambique put more money in schools than Europe. In those countries, at least 6 percent of total income goes to education, the average in the European Union is 4.9 percent. In central Africa, little girls went to school for a long time. But the difference with the boys is coming back soon. Meanwhile, three times as many girls get educated as ten years ago.
The inequality also decreases in adults, according to the development bank. For example, in Botswana, Namibia and Rwanda, men and women already have the same opportunities.
The improvements in health care and education are also good for the economy. In ten African countries, these grew faster than in China, for example, in recent years. Meanwhile, 350 million Africans belong to the middle class.
In recent years growth has fallen somewhat lower. Africa supplies a lot of commodities, and demand has fallen due to the global economic crisis. Now that world trade is attracting, the development bank expects Africa to benefit greatly. Growth of 3.4 percent is expected, in 2018 it is expected to be 4.3 percent.
Mobile
The 1.2 billion inhabitant continent is always better able to hide itself. 60 percent of the economy is accounted for by domestic investment. And where the rest of the world was mainly for raw materials for years, the AFD sees billions now flowing towards the construction sector, financial services, industry, transport and ICT.
In particular, the mobile phone has brought Africa a lot of money, says Irene Visser, director of the Netherlands-African Business Council. "Farmers who previously did not know so much and were sometimes exploited can now call up the market prices for onions and tomatoes and learn when they can best sow, fertilize and harvest. But medical care also benefits enormously. Due to a shortage of nurses, quite a few people died. Now pregnant women get a text message when they need to be in control and the patient who is looking for a patient does not have to be the one who diagnoses. The information can only be forwarded. ''
Corruption

The image of Africa as a collection of corrupt countries of famine must now be corrected once (Irene Visser)
In the coming days, many African leaders gather in India to talk about the future of their continent. Because there is still a lot of work to be done. Another 544 million Africans live in poverty and half of the young people live without jobs. Still, the AfDB is hopeful. Thus, Rwanda, Ghana and Liberia managed to reduce poverty in a short period of time, inter alia by making it easier to set up a business.
Visser also provides a bright future for the continent, which still has the image of a collection of corrupt countries with starvation and other misery. "That image should now be updated once," she says. "The whole world has suffered from an economic crisis in recent years. Africa continued to do well, partly because the population grew so fast. That will not change in the coming decades. ''

Jan Abbink, professor of African Studies at Leiden University, also sees Africa changing rapidly. "We are building roads and investing in clean energy. Money that Africans transfer from Europe or the Middle East to their family serves not only to survive but is also invested in companies. The young people in Africa themselves are much better educated and want to get started. Therefore, it is important now that vocational education improves, factories are being built and the authoritarian leaders get the power off. If that happens, Africa will continue to be in the elevator over the coming decades. ''
Source : De Gelderlander

Download: Invest in Ghana - Deloitte
Download: Dutch Good Growth Fund
Download: Starting construction
Download: Rijksdienst voor Ondernemend Nederland
Download: Atradius Dutch State Business